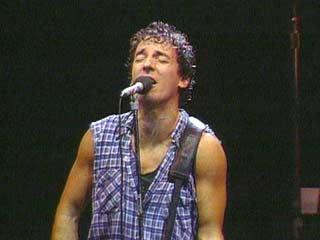 The man has passion for his music

Reason to Rock: Bruce Springsteen
TODAY BRUCE RELEASES

"DEVILS AND DUST"

AND I AM ON MY WAY TO THE MUSIC STORE RIGHT NOW!
April 26 Update:

Got the CD and it's just what I expected...I like it, but it's another Ghost of Tom Joad/Nebraska - ish recording. The third song is very risque for Bruce (I blushed) but I understand what he's saying. Apparently most of the songs are written from the perspective of a soilder that is either in Iraq during the war, or has returned home. Still bidding on E-Bay for tickets. Time is running out. So is my money :(

To my personal review of a concert during "The Rising" Tour please scroll down to the bottom of this blog.

technorati tags: Classic, Rock